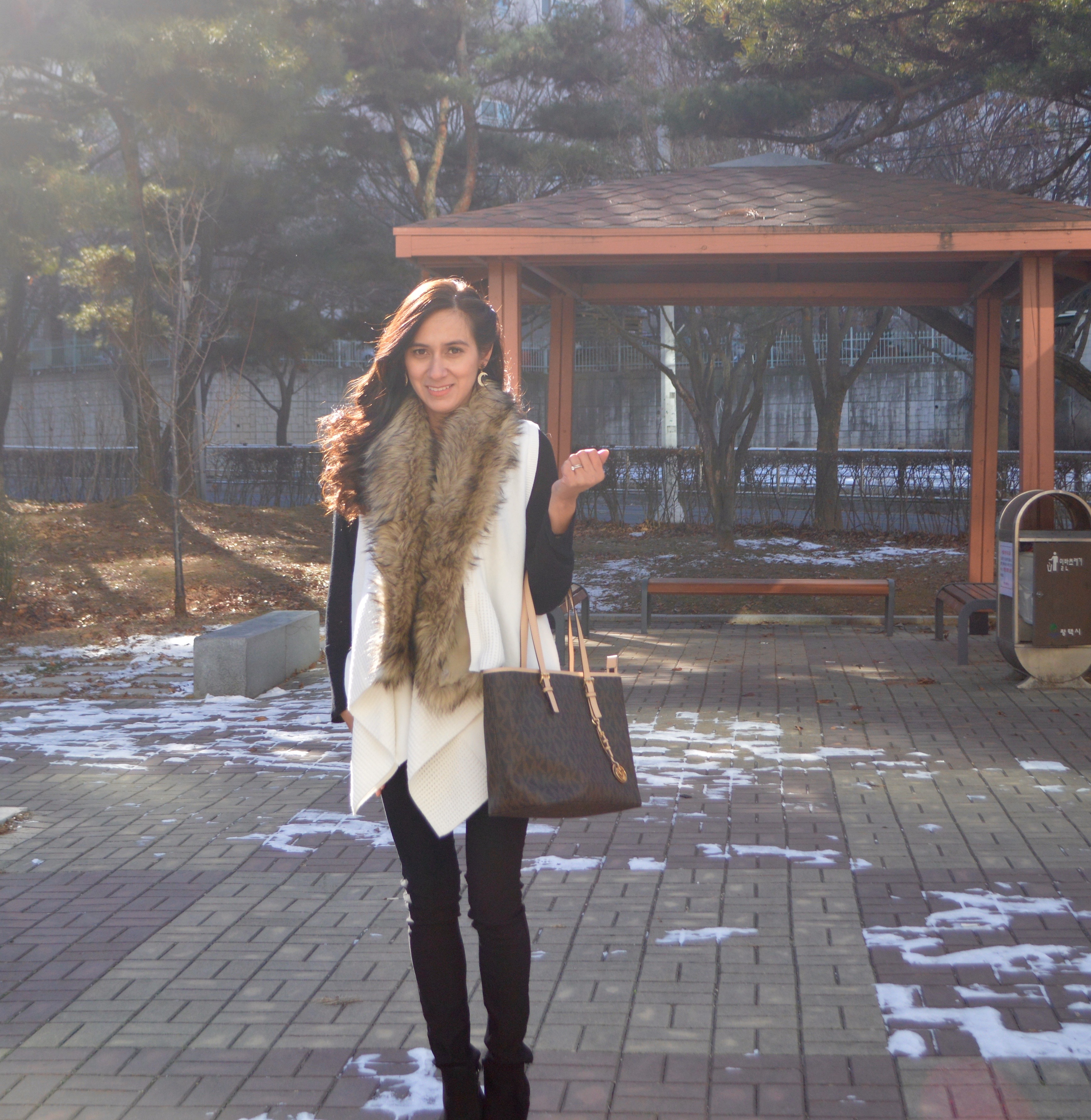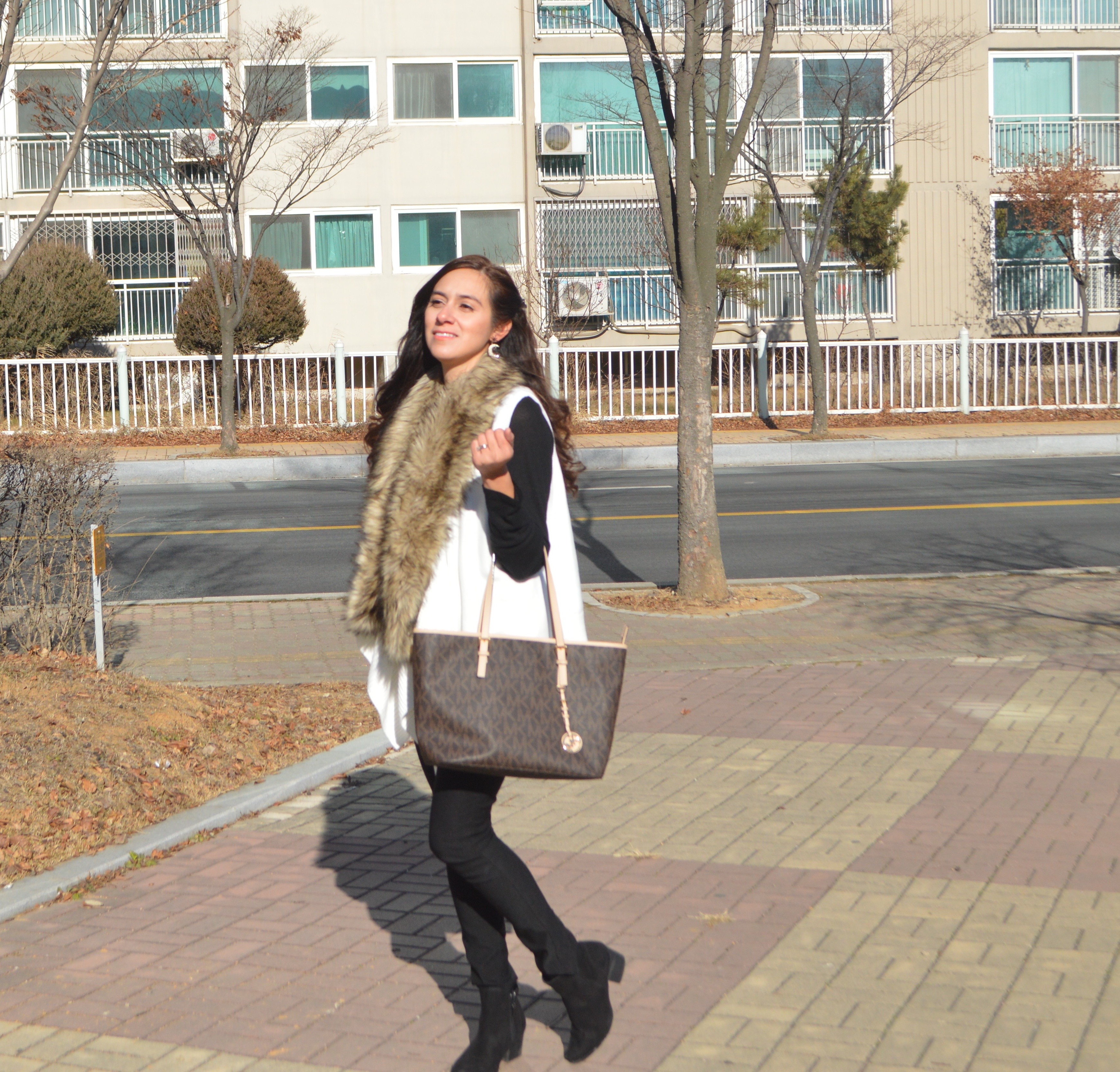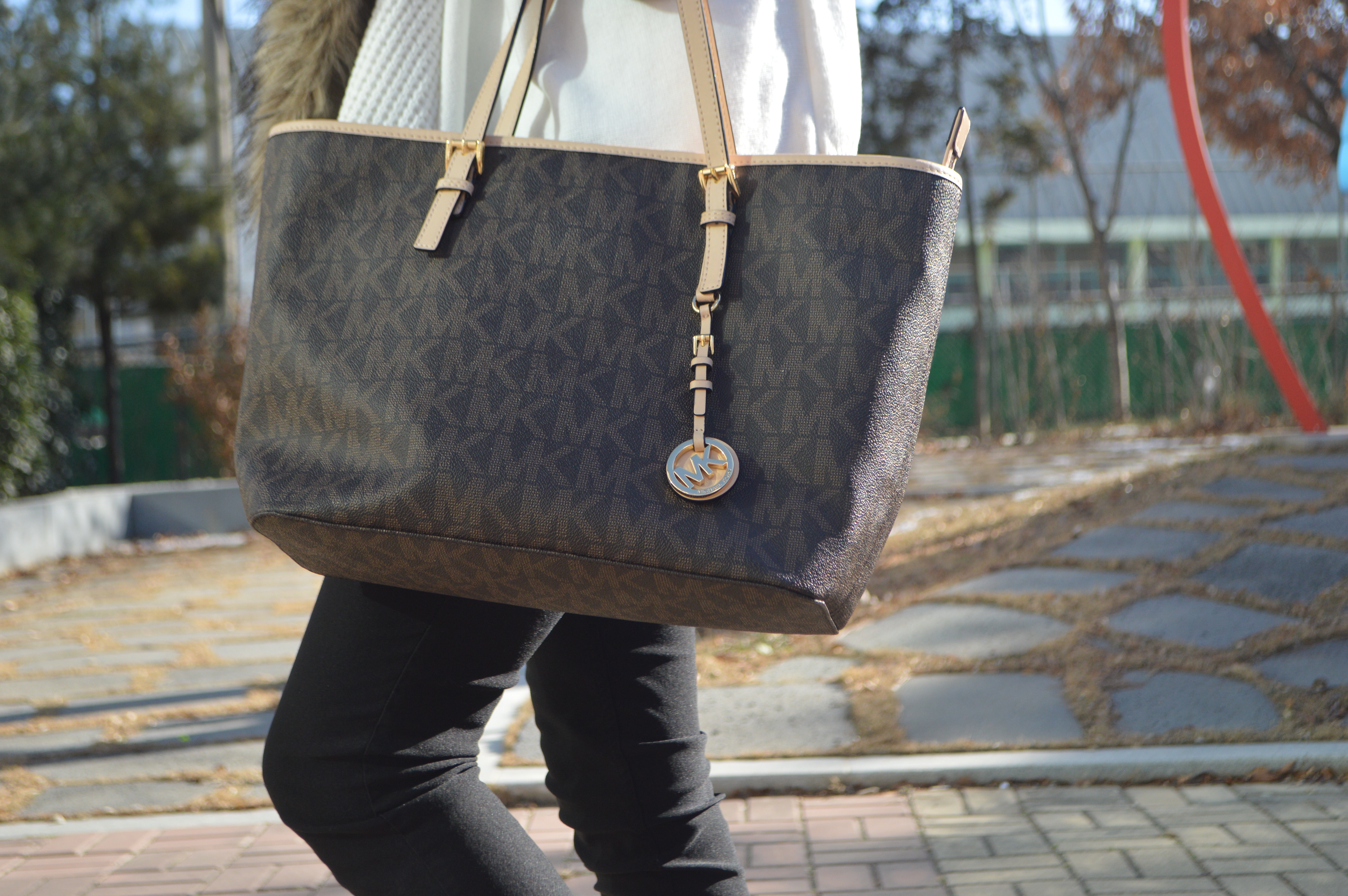 Shop this EXACT MK Fur Vest (Black) | Booties- SIMILAR | Earrings- EXACT | Tote Bag- SIMILAR
These recent days have been a biting below 20 degrees Fahrenheit and it makes taking blog photos a bit challenging. This weather automatically puts me into hibernation mode. I discussed my issue with fashion blogging in the winter on my last post here. For this post, I am going to share some ideas that will help all you fashion babes get through this cold season.
If you are looking for ideas for a winter blogging route, continue reading!
Introducing my new winter routine that is going to help you!
These days I absolutely must take my photos on a Saturday or Sunday morning because there are limited daylight hours.
I start the day about 0800 when dawn has fully kicked in.
I get ready; I already have my clothes picked out the day prior
If I decided to eat before my pictures I will eat something really light.
I try to get out before 1100 that way the sun isn't too empowering, I believe the best times to take photos is between 1000-1100 am- In January.
Once I get to the location that I want to shoot at, I try take photos at different angles that why I can see which way the sun light works best for me and the outfit I am wearing.
Lastly, The most important step of all! I get myself a coffee and begin the process of photo editing. Once I get home, I get into my bed and relax. A friend of mine recommended I look into getting something like a twin mattress, so I can have more space for comfort and relaxation.
One morning out of the weekend I will use for blogging my outfits and another morning for my OOTD- Outfit of the day photos. With my full time job and school, I have to schedule and make time to create content because I am much too busy during the week.
But that's not all!!!
Another thing you can do for winter fashion blogging is take some photos indoors. I sometimes find inspiration from indoors, depending on my surroundings.
Outfit Details
I think we all agree that fur is pretty amazing! I will be sporting it all winter long! I grabbed this gorgeous vest at the Post Exchange. It's a Michael Kors vest and it was on sale. I am styling it in with a black on black look underneath. Of course I am wearing my new favorite Bauble Bar earrings- RIGHT NOW, Get 25% off using code BOLD25. OFFER ENDS 16 JAN at 11:59 PM EST. I am also wearing my newest Michael Kors bag. Items to recreate this look are listed below! Check them out!
If any you fashion bloggers have any more ideas to help blogging in freezing conditions I would really love to get your input. Please share your knowledge and leave a comment below! Thank you for reading and I hope that this post helps.
Stay Warm Lovelies!
-Brandi Kimberly