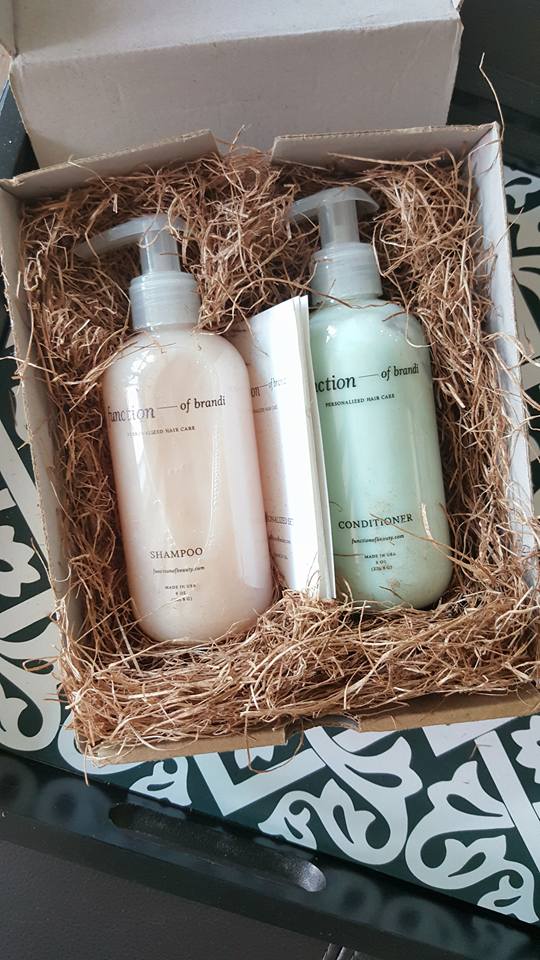 Hello Beauties!
Quick disclaimer! My review is honest and 100% my own opinion. I am not affiliated with any bands mentioned in this blog post. I am not collecting commission or profit for this review.
So it has almost been two months since I started using Function of Beauty and I owe you guys a full review.  Honestly, the 'Function of Brandi' did not work out for me.   If it had worked out for me, I would have promoted it more on my blog.  If you read my last post, "Function of Beauty Review & $5 Off Purchase," you will see that it was the first time I used their Shampoo and Conditioner and I talk about the health of my hair.
More Deets On My Hair:
I am in my 30's so I have 'Aging Hair'
I have a light frost of grey, mostly on the crown portion of my hair so I dye my roots once a month.
I am currently serving in the Military so I have to wear my hair in a bun at least 5 days out of the week
I flat iron or curl my hair once a week, if at all
I used to wash it ever day but I have just recently started a 3-4 times a week routine
I get Dandruff so easily and so bad! Especially when I don't wash my hair so I will use The Medicated Selsun Blue to try to control it.
I have been dealing with Dandruff issues since I was 13 years old
I don't style my hair too much
My hair has been very thick my whole life until now that I am in my 30's, it is still thick but it has thinned out some
My hair in my 30's is more dry and coarse than it used to be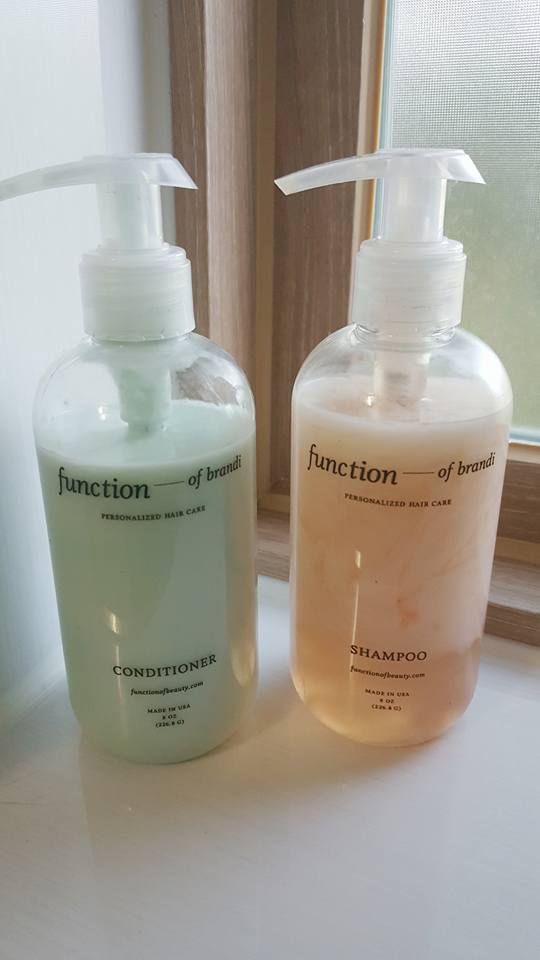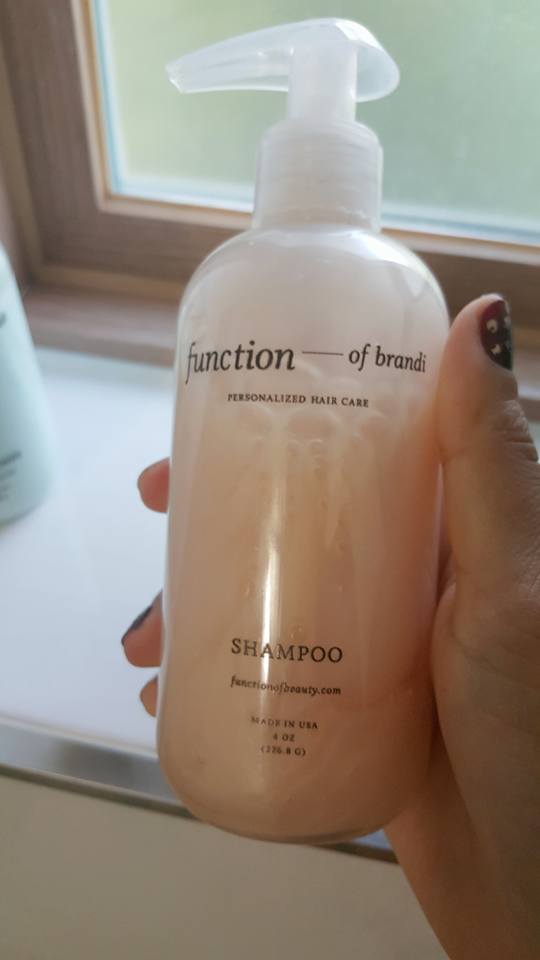 So if you don't already know about the Function of Beauty, it is a personalized Shampoo and Conditioner made for you to fit your hair goals/ hair needs. Before you order, you will take a hair survey so they can get you the right formula.
This is what I choose for My Hair Profile:
Hair Type was Wavy
Hair Structure Medium
Scalp Moisture Dry
My Hair Goals included:
Deep Condition
Color Protection
Anti-aging
Replenished hair
Shine
Color:
As you can see I chose the Pink color for my shampoo
And the Blue for my conditioner
Fragrance:
I went with Cucumber Mint
Bottle Size:
I bought both 8oz bottles that cost me $26  I bought the cheapest ones because I wanted to test them out before I made big purchases.
Let me first say that I really enjoyed their products and the Cucumber Mint sent. I may buy from them again to see if a different Hair Profile will help my hair.
When I first received my bottles I was so excited, I decided to try them out that very night! The next morning when my hair was fully dyed it felt nice and soft but I had bad dandruff like no other. I had a really irritated scalp and when I picked at my head to get the dandruff out it was more like pieces of scabs stuck to my head. I figured that I just had a really bad scalp week. I held off on trying the shampoo/conditioner again until my head was back to normal. I tried the products again and I got the same reaction. I gave it a third shot with the same results, during that time I had experimented with coconut oil in my hair. I left coconut oil in my hair for 3 days and the shampoo did not rinse it out too well, leaving my hair smelling dirty.
I bet this shampoo and conditioner is great unfortunately I don't think it goes well with the demographics of my scalp.   If I buy from them again I will choose a different Hair Profile. I will choose 'Normal' for the Scalp Moisture. I can't help but think that the reaction to my scalp was because I chose 'Dry.' Dandruff shampoo has never help my scalp except for the Selsun Blue Medicated shampoo. I use the Selsun once and I am good for about a week or two, sometimes longer.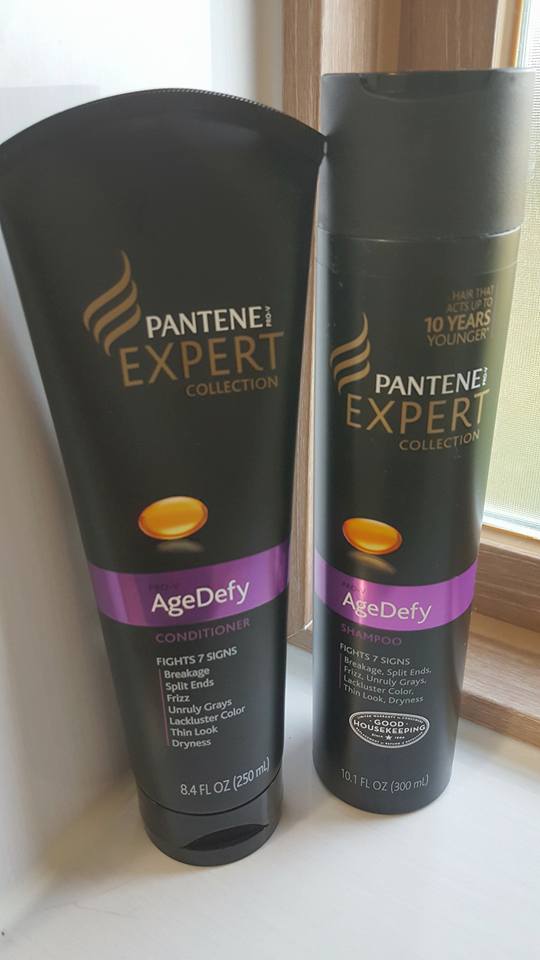 Let me leave you guys with a shampoo and conditioner that I do like for my 30-year-old hair. The Pantene Pro-V Expert Collection Age Defy is my favorite and Go-To Shampoo. I found that anything with the 'Good Housekeeping' label on it is a really good product to use. I alternate my shampoo and conditioner so that my hair products don't loose its effect. I am constantly trying out different brands. The Pantene Pro-V Age Defy leaves my hair feeling great the day after I use it. I don't get breakage; it helps with the fading of my dye and it keeps my hair feeling thick. I recommend this shampoo and condition. I've been using it on and off since 2014 and it has done my hair lots of good.
Stay Beautiful!
-Brandi Kimberly