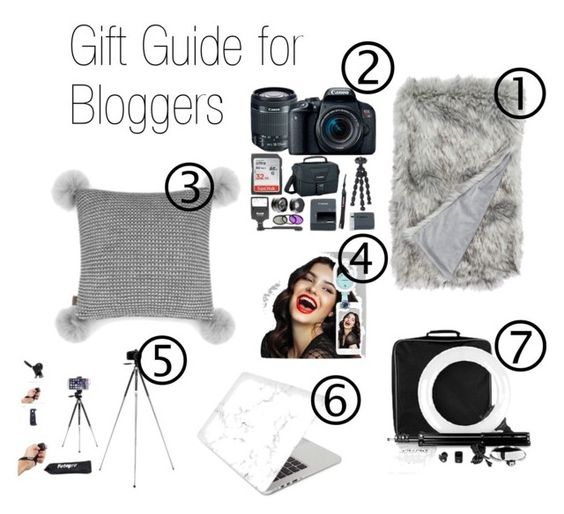 Gift Guide for Bloggers
It's the most wonderful time of the year!  It is time for family, friends and it's the season of giving.  During the Holidays you don't really think about yourself while you are out running around grabbing gifts for all your family members and friends.  Recently I was asked, 'what do you want for Christmas??'  That was a great question that I did not have the answer to.  So what do I know about myself?  Well, I blog and it has become quite the passion of mine.  This question inspired me to come up with a gift guide for the Blogging Girl.  If you have any friends or family members who blog, you must check out these items!
Gift Ideas for Bloggers || Links down below
#1:  Who wouldn't want a cozy fur blanket that brings warm vibes into a blogger's atmosphere?  This one is perfect ||  Fox Faux Fur Throw Blanket
#2:  This is the perfect starter kit for all you aspiring bloggers out there and a generous gift as well ||   Canon EOS Camera Starter Kit
#3:  A cute pom pom pillow helps build ascetics in a blogging environment || UGG Pom Pom Knit Pillow
#4:  Selfie Lense for Phone + Ring light will help any blogger's phone photos come out looking professionally done ||  Selfie Ring Light + Wide Angle Lens
Aren't these Ideas great?  Let Continue!
#5:  This trio is perfect; a iPhone Tripod, a Camera Tripod and Bluetooth Remote!  An amazing gift for a blogger! || Smartphone Tripod, Aluminum Camera Tripod Set
#6:  I love marble, it look clean and chic and I love surrounding myself with its beautiful ascetics.  This laptop cover is a great gift ||  Marble Laptop Cover
#7:  This LED Ring Light Set would be perfect for your Blogger who loves indoor photos and who loves to make videos ||  LED Ring Light Set
Hurry Up because Christmas is coming Quick!
I really hope this gift guide was helpful to you for your blogger friends/family members.  Some of these items are definitely on my Christmas list!  And if you are a blogger, there is no harm in getting yourself also!
Have a Happy Shopping Weekend!


Shop the Post