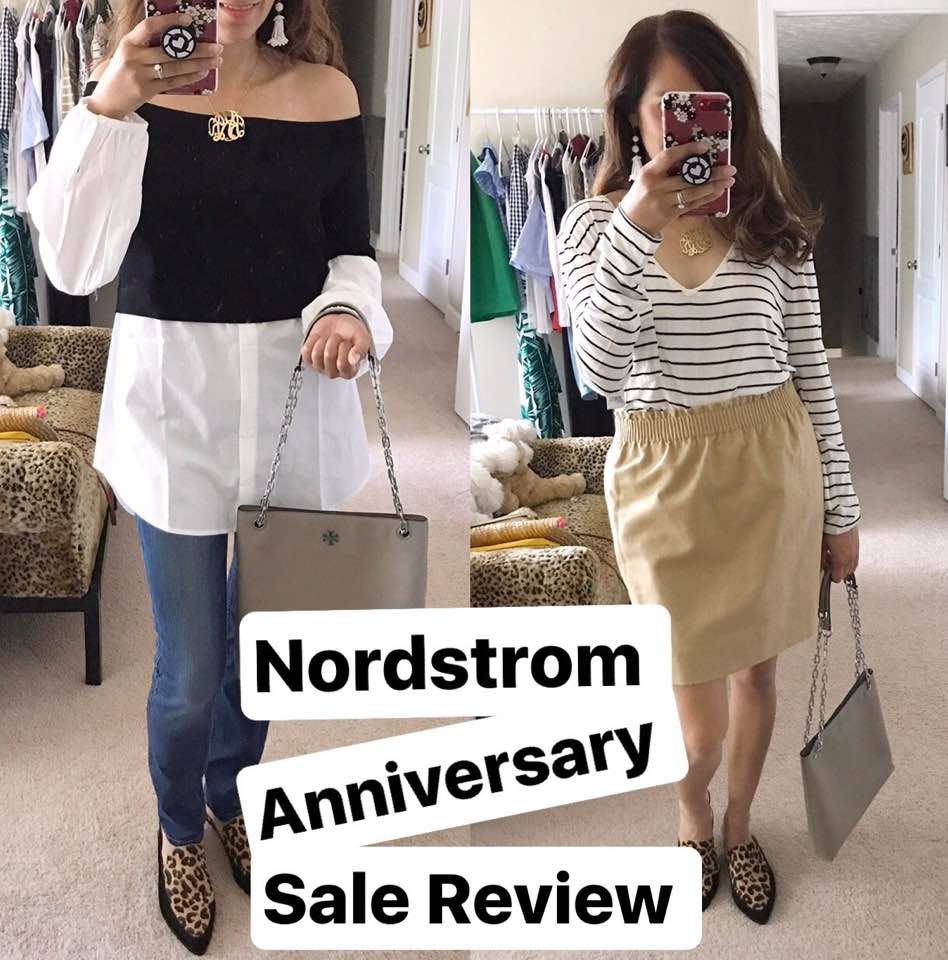 My #Nsale Full Review
This is the first year that I actually shop the Nordstrom Anniversary sale. Last year I bought some items from the summer and did a post on them here but they were not from this fantastic sale. The lead to me wonder, why didn't I shop it last year???  Now that I had the full experience, I absolutely know why.   I will discuss my finding later! First, lets review these amazing items. Lets get started!
My Personal Review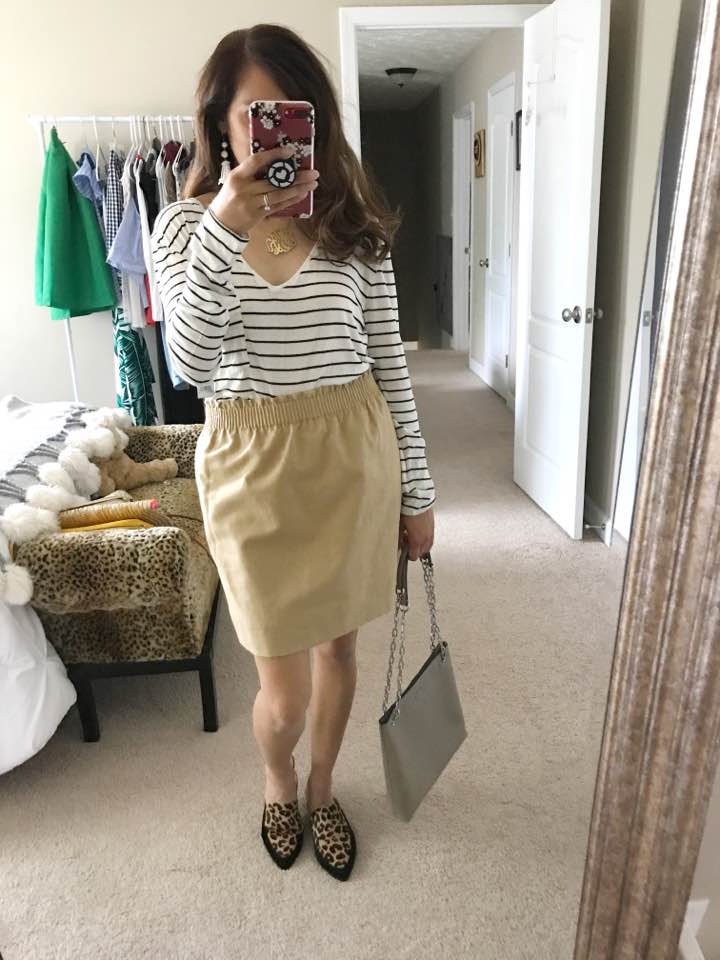 Sizing: Runs a little Large. Wearing a Medium in this picture, I need to size down to a Small. As I continue to buy stuff from Nordstrom, I find that I need to buy a Small in all my tops. This top is in fact "soft." The only bad thing I can say about this top is that the v-neck is so low, my boobs pop out but this could be because I need a Small or an X-Small in this style tee. I do love it; I just hate having to worry about my boobies being exposed ever minute.
Color: This tee came in other colors. Here is what's left-
(Black- XXSmall, XSmall, Small, Medium and Large
Price: $18.90
After Sale: $29.00
Halogen Corbin Genuine Calf Hair Slides Loafer
Sizing: They run a tad small on me. There are mixed reviews because some say true to size. I personally don't like the heel of my foot to pop out or even come close to popping out of my shoes.  So, I ordered an 8 ½ and a 9. Size 9M fits me perfectly. Normally, I wear size 8 – 81/2 in shoes. These Loafers are by far my best purchase of the sale. There's not a single bad thing to say about these loafers.  They are finished with real calf hair in leopard print; you can wear them with just about anything. I adore them!
Color: One Color (Leopard)
Sizes left: 4, 4.5, 5, 8, 12, 13
Price: $59.90
After Sale: $89.95
Skirt is not from the Nsale but you can shop it HERE!!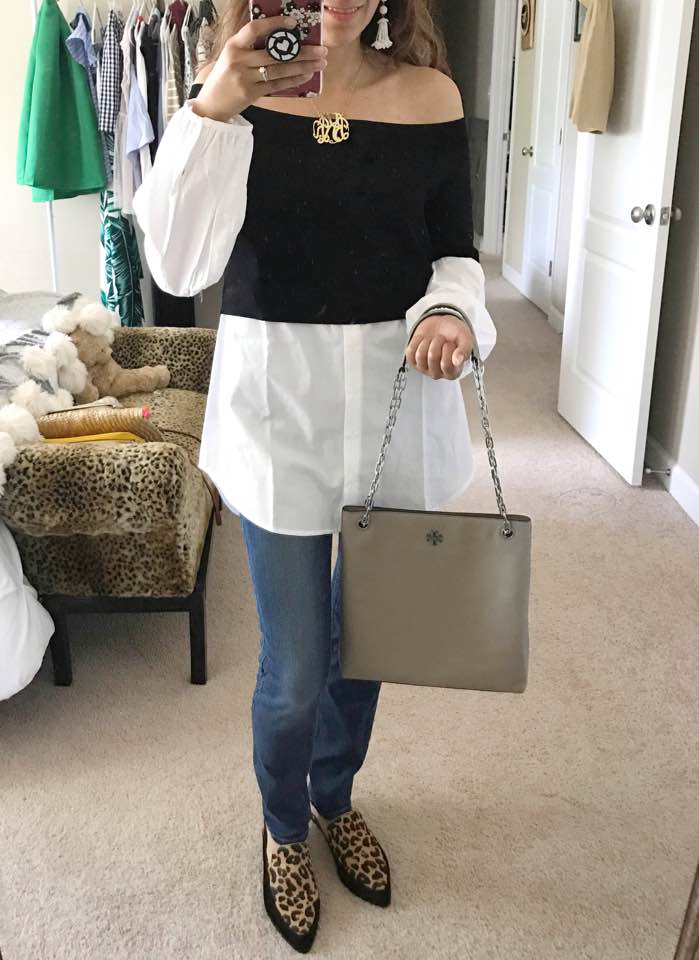 Trouvé Off The Shoulder Poplin Sweater
Sizing: In this Picture I am wearing a Medium, which turned out to be way too big on me. The top would slip right off me. Love this top and I think it is going to be a great addition to my fall/winter wardrobe. I bought this top in a Small, which accidently got mailed to my mother's house so I am waiting on her to send it to me. Then I wondered maybe a Small will still be to big so I went ahead and ordered it in an X-Small as well. Look for the final review on my Insta-Stories. The only thing I can say for sure is that I looooovvvee this top.
Color: Comes in 3 different color combos. Here is what's left.
Black-White (Medium, Large, X-Large)
Burgundy-White (X-Small, Small, Medium, Large, X-Large)
Navy Sapphire-Blue (Medium, Large, X-Large)  
Price: $58.90
After Sale: $89.00
Tory Burch Frida Swingpack Leather Cossbody Bag
This bag is my new BFF, I've never owned a Tory Burch anything before and I am glad I made the purchase. This bag also came with a store away bag. I am obsessed. The only bad thing I can say about this bag is that the chain handle does not stay in place. So when I place my bag down and later pick it up, I have to readjust the handles into position.
Color: This bag came in Beige, French Grey and Black
Price: $283.90
After Sale: $428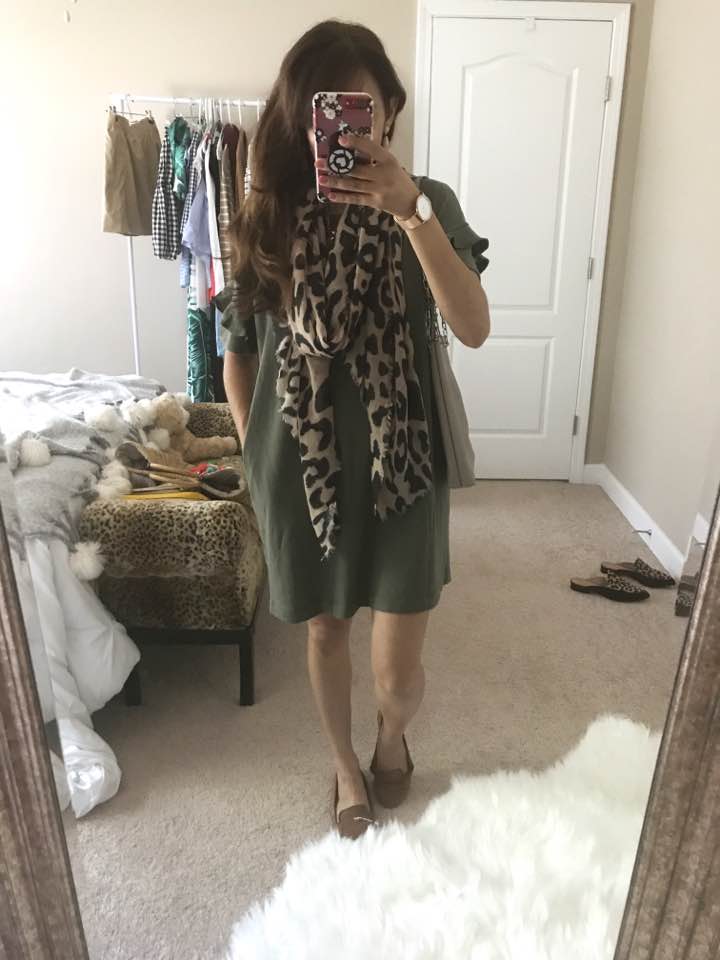 Lush Ruffle Sleeve T-Shirt Dress (Sold Out)
Sizing: Grabbed a Medium in this dress; it's a juniors fit so Medium was perfect. Absolutely love how casual, loose, comfy and cozy this dress is. The ruffle detail on the sleeves makes it girly. I really hope they bring this dress back!
Color: This dress came in a few other colors, Grey, Pink.. I got the Dark Olive
This dress is SOLD OUT
Price was: $29.90
Leopard Print Scarf (Sold Out)
This scarf is my favorite from the sale. It is lightweight, which makes a great transition item from summer to fall. I've seen this item sale out once before public access began and it is sold out again. Hopefully they bring it back once more!  Keep checking back!
Color: Leopard
SOLD OUT
Price was: $11.90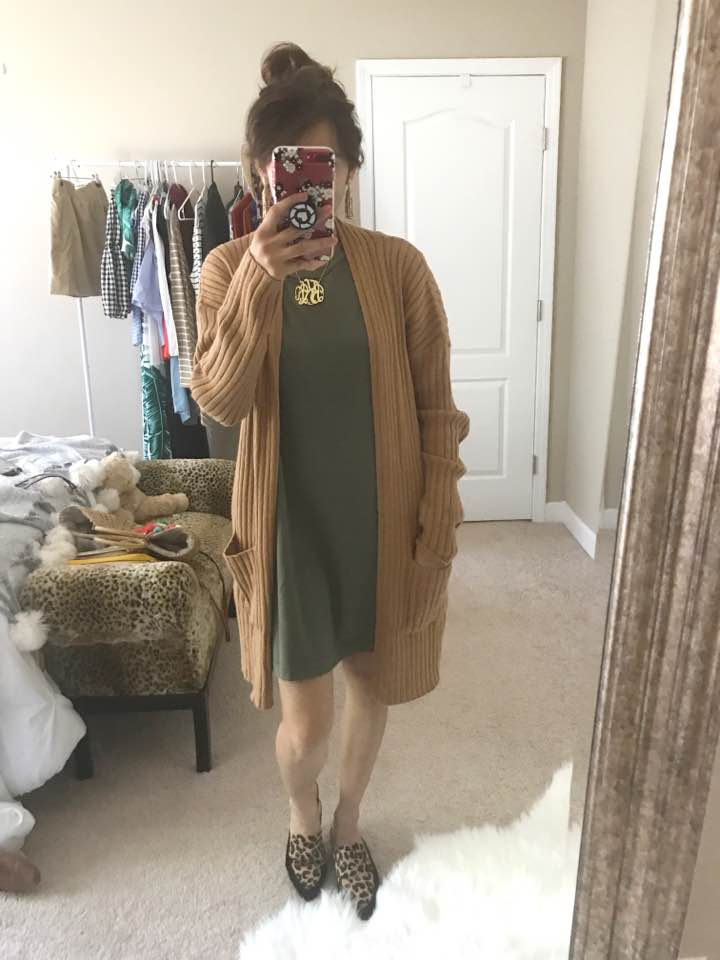 Add a cardigan to this dress to make that transition into fall
B.P. Rib Knit Cardigan (Sold Out)
Sizing: Got a medium and it fits perfectly, True to size!  Of the two cardigans that I purchased during this sale, this one is my favorite.  The ribbed detail and relaxed fit is amazing. I only wish I had purchased one more in another color!
Color: Tan Dale, Black, Oatmeal
SOLD OUT
Price was: $11.90
Baublebar mini Metallic Piñata Statement Earrings (Sold Out)
Love these earrings and how sparkly they are!  I grabbed them in Rose gold and I can see that Rose gold jewelry is going to be the trend for this coming season.
Color: Rose gold, Black grey
SOLD OUT
Price was: $27.90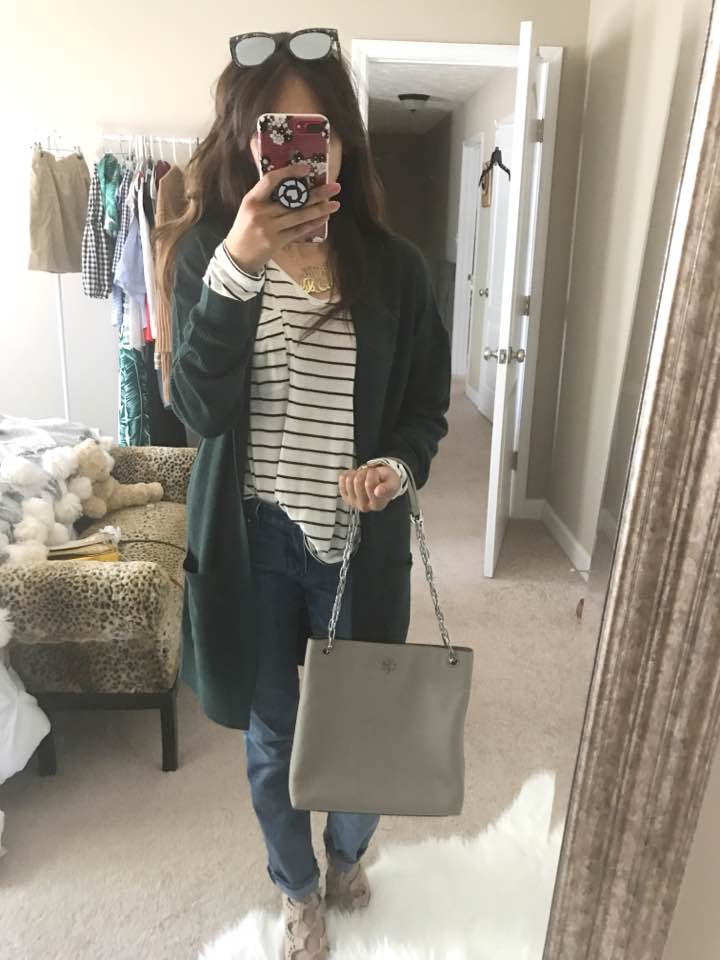 B.P. Lightweight Rib Stitch Cardigan (Sold Out)
Sizing: Since a ton of stuff I've purchased in this sale turned out to fit me big, I decided to size down this time to a small. It fits but I suggest keeping your normal size in this cardigan because it makes more room underneath for bulky sweaters. I like my cardigans to fit really loose. This item is sold out but be on the look out for returns and more stock!
Color: Tan, Heather grey, Oatmeal, Black, Burgundy, Green timber
SOLD OUT
Price was: $31.90
Quary Australia It's My Way 55mm Sunglasses
My favorite accessory purchase during this sale because they make me feel like a movie star! They are my new favorite pair of sunnies! Purchasing sunglasses online are a bit iffy because I don't know how they will look! However, Nordstrom has that free shipping/ returns so I did not hesitate!
Color: Black tort/silver
Price was: $35.90
After Sale: $55.00
More items in this Sale
I have 13 more items to review but I am waiting on the shipment! One of them is back ordered and won't be coming in until August. Since the public access sale began, a ton of these items sold out! This sale is serious! Below is what is in my cart waiting for review.
Review on the entire sale
I love the Nordstrom Anniversary Sale and sometimes as a blogger, I hate it! As a blogger, you need a different stagey in purchasing and promoting than your average shopper, this was definitely something I learned something during this sale. I'm still waiting around to see if most of these items will restock, but I have a feeling they won't. Maybe they will be back after the sale at full price??? If you experienced Nordstrom shoppers know they answer to this, please comment below!  As I stated before, this is my first Anniversary Sale.
So why didn't I shop the sale last year? It is because when public access arrived, everything that I wanted was gone!  Last year, I did not have early access and if you did not have a Nordstrom Rewards or Nordstrom Credit Card this year, I suggest you get one and be ready for next year!!
Hope you enjoyed the Review!

Shop the Post