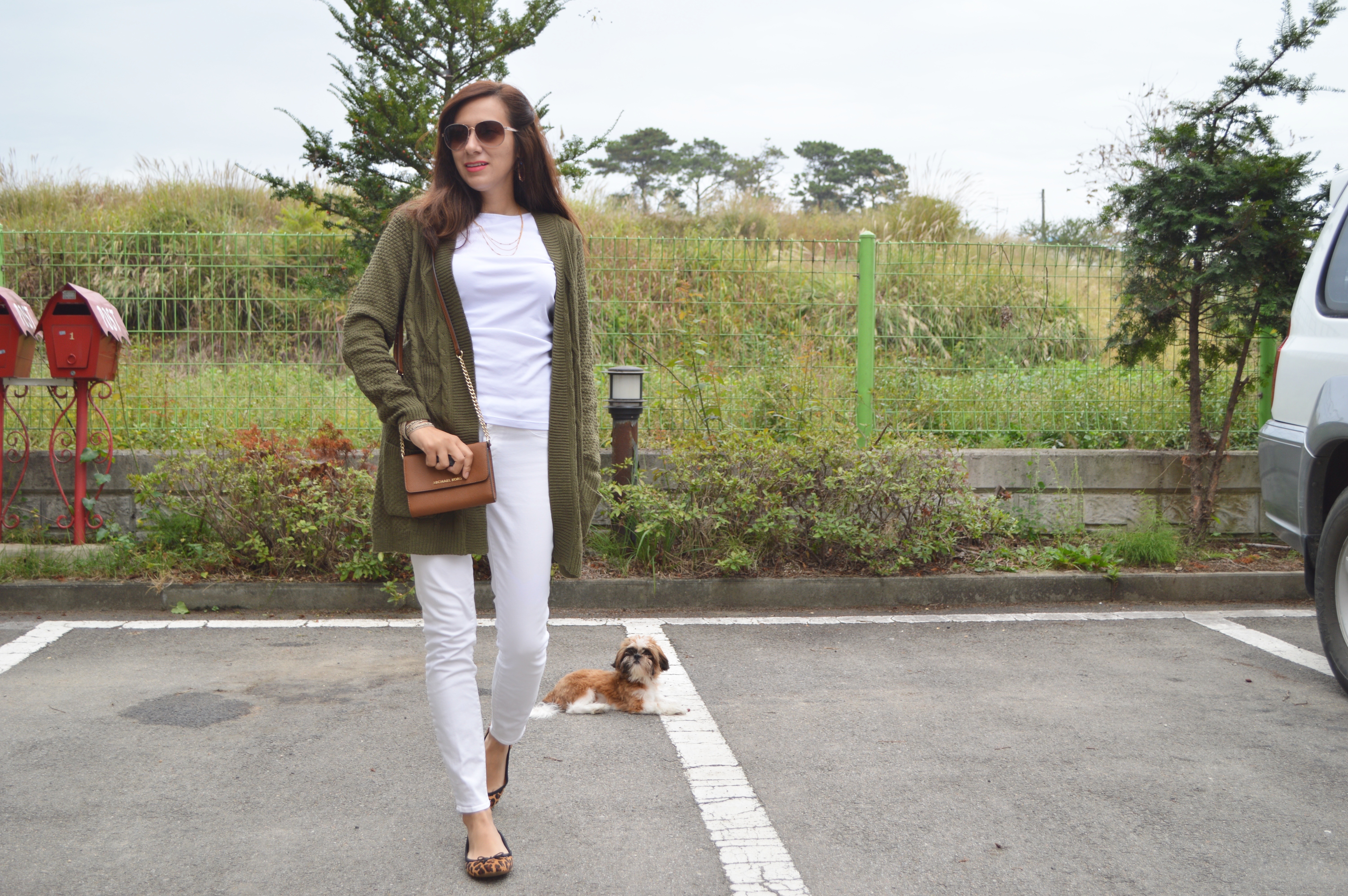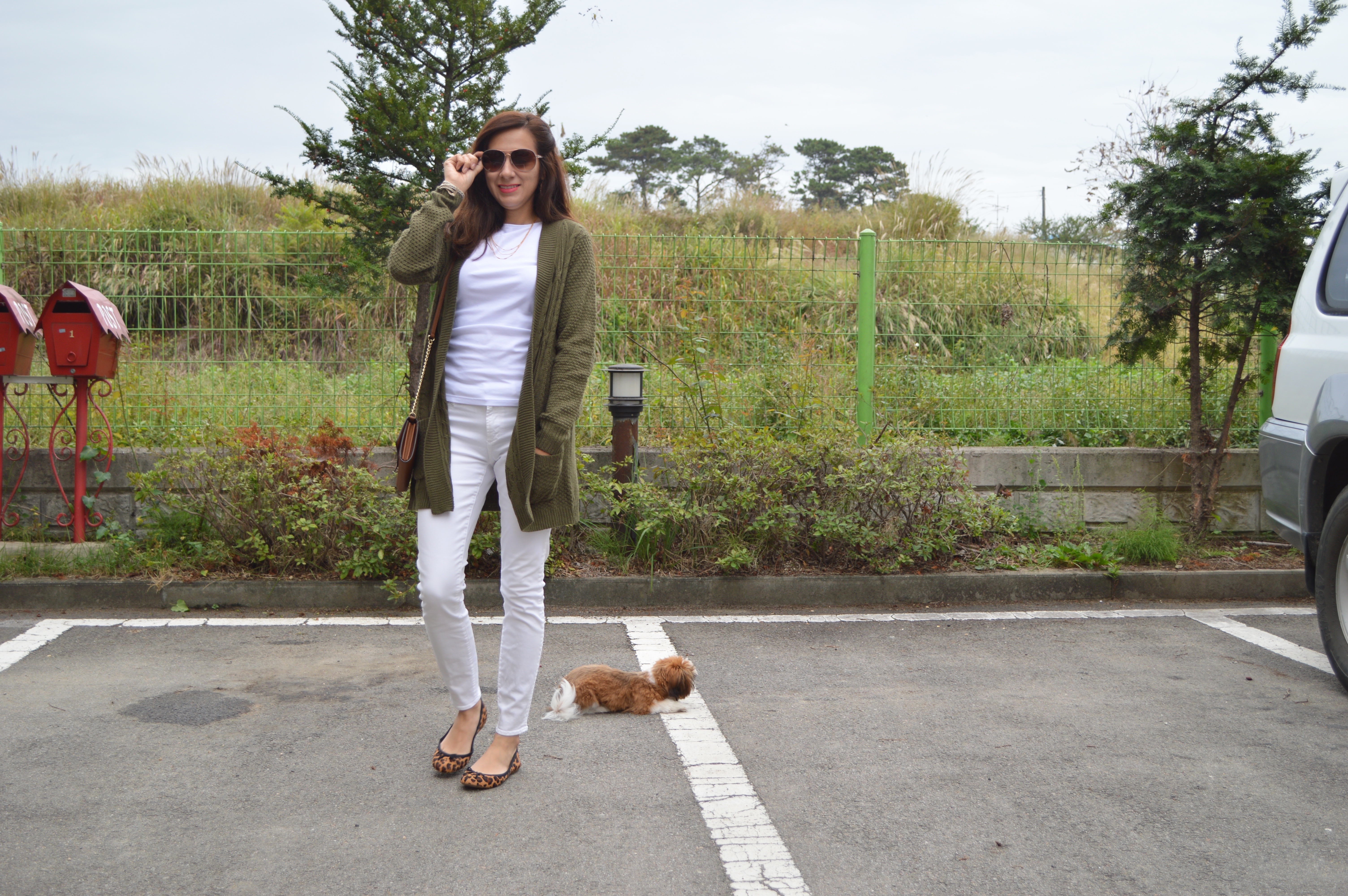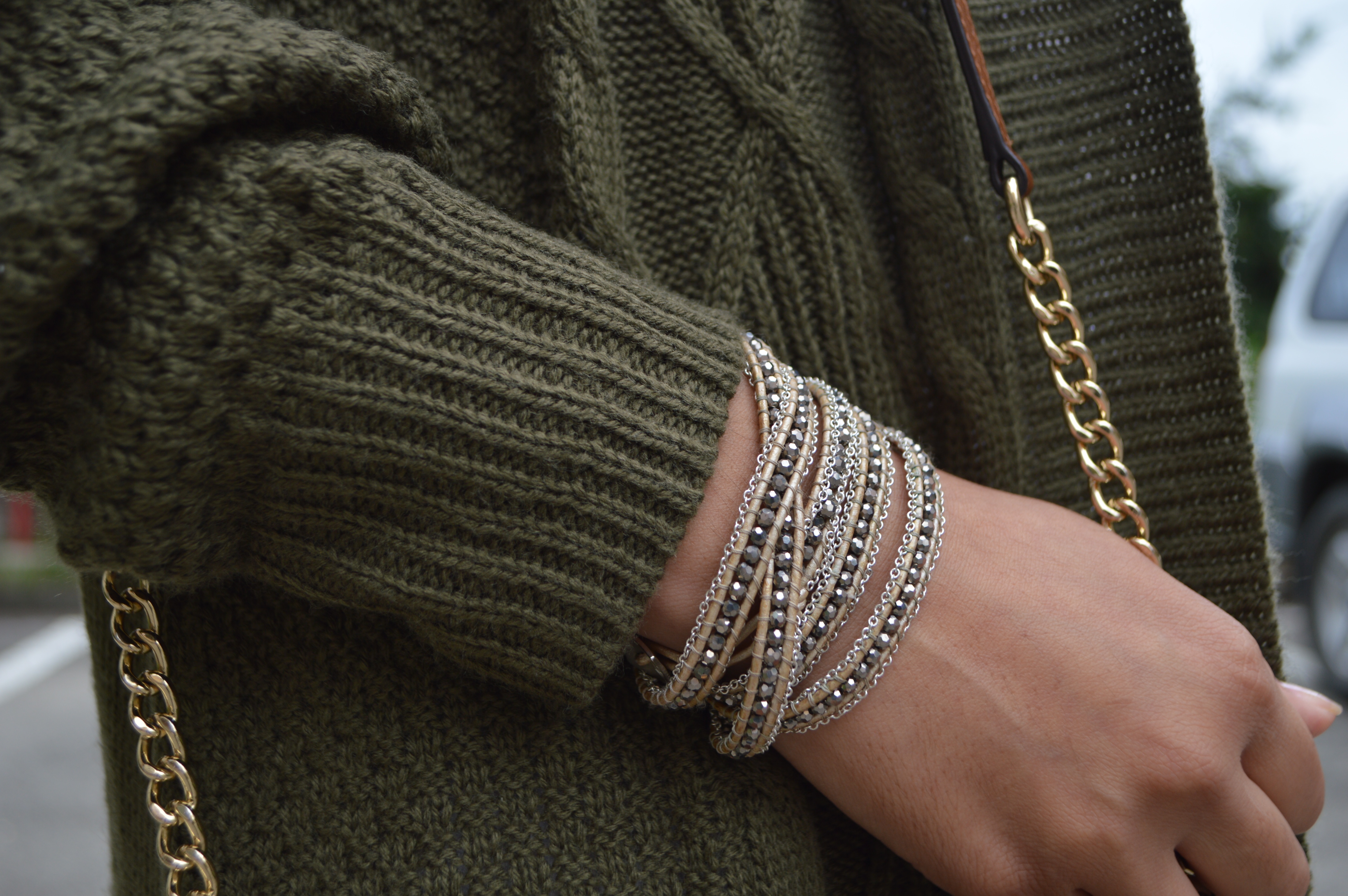 leopard flats  | Long Sleeve Tee |  Similar Cardigan  |Rocksbox
It's Fall Ya'll!! Today was gloomy and cool so I decided to throw on this olive green cardigan, which looks great over my white on white outfit. I am also wearing my new favorite flats from JCrew Factory. Bug is enjoying the cool weather as well. I linked similar items to my outfit below. My necklace and bracelet are from my current Rocksbox. Get the deets here and use code 'cutebrandikxoxo' for a free month membership!
Fashion Blogging:
This post is a continuation from my blog post 'Fashion Blogging For Beginners: The Mistakes I Made Starting My Fashion Blog.' In this post I am going to talk about the following mistakes I made:
-I did not do enough research before I started
-I believed that the public would just automatically find my blog or find me on social media if I simply post enough content.
Honestly I still struggle with this one. When I started fashion blogging, I didn't know anything about it. I signed up for a page on wordpress.org to play it safe and I created some content hopping for the best! After a few months into blogging I realized that this is actually harder than I thought. How do you get people to read your content? How do you gain followers? What do people actually want to see on your blog? What does monetizing your blog mean?!?! I had these questions but I did not look them up. Also, there's lot of stuff out there in the blogging world that I was completely unaware of like SEO codes. In fact, I am still learning today.
The girls I follow inspired me and I created my own content to fit their criteria so that I can get the same results as they did. That didn't work! I thought if I just build the right content and post on Instagram regularly, followers will find their way to me. Well I am here to tell you that it does not work like that, there is so much more to fashion blogging! You need to interact, reach out, put a lot of time and energy to build and get your content noticed. A ton of researching is required. When I am not busy with my "Day Job," I spend a lot of time on my IG networking and researching.
The quality of your content is very important; I have read this so many times in other blogs and it is true. Fashion Blogging is a marketing scheme. You need to know how to keep your audience interested and you must know what your audience is looking for. Not only do you want to produce quality content but you may also want to create content of trends that your audience is looking for.
I still struggle with not doing enough research. I can be so lazy sometimes and I pay for it later. If I were to start my blog differently, I would improve by having an instagram blog first before launching a site that way I can build up networking and the hype for my blog site. In fact, my biggest regret starting out was my lack of networking.
I will admit that currently, I have a stronger presence on my Instagram than I do on my website. I think a way to fix that would be by networking on other blogger's websites and researching for better SEO codes. I will continue to keep improving my blogging and I will keep looking for more hacks in the trade.
Do any of you more successful bloggers have any advice for me and for other new bloggers who are starting out?
Quick Disclaimer: This blog post is simply free advice and it's an opportunity to share my journey in becoming a Fashion Blogger. My intent is to inspire new bloggers to work towards their goals by sharing my success and my mistakes.
Fall is Here!
-Brandi Kimberly