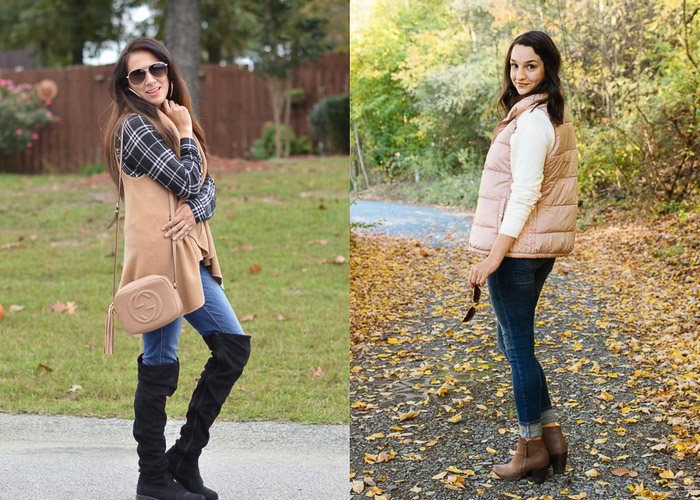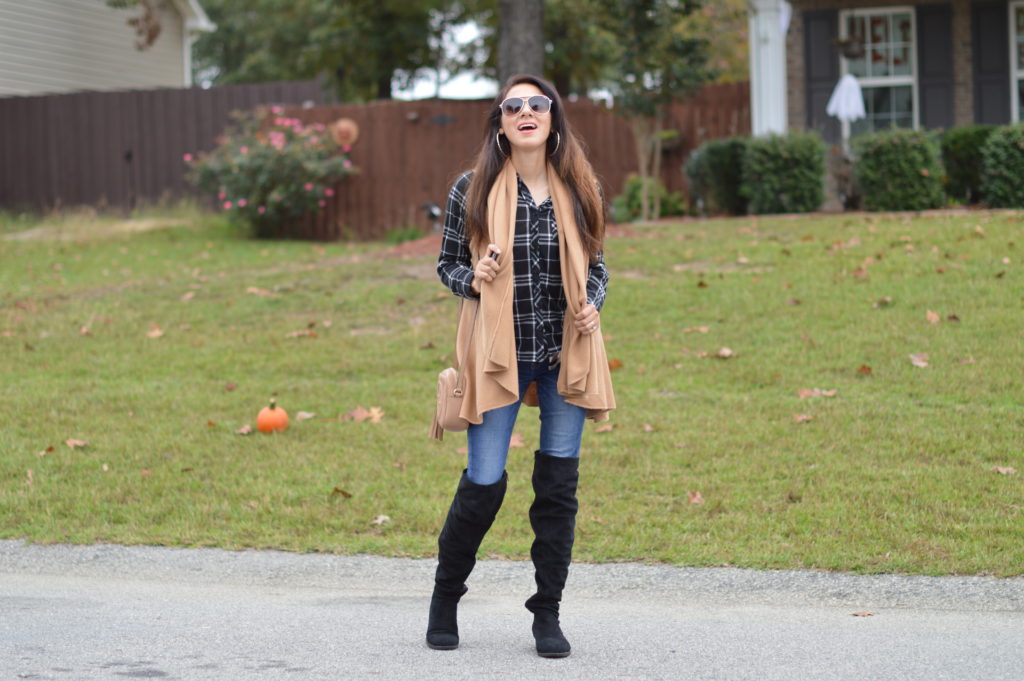 Today I am doing a collaboration with a Fashion Blogging Friend, some of you may know her, You can check out her Instagram right here! 
We decided to style cozy vest for the fall!  I love a great cozy vest during this time of the year.  I went with a sweater shawl from Morning Lavender and I am absolutely obsessed.  Check it out right here!
Meet Kristin
Kristen is one of my favorite fashion bloggers whom I had the privilege to get to know over this past year!  She's a cutie with great style and she is a military spouse just like me!  We actually have a lot in common.  Let me tell you all about this lovely person who I am inspired by.  Kristin served her country in the U.S Marines as a Logistician for 4 years, how cool is that!  During her time in the Marines she was also in Afghanistan.
Kristin is 28 years young and she's been blogging for almost over a year and a half.
I decided to ask Kristin some questions about fashion like I did for Kimberly and here are her answers:
The Questions I asked Kristin
1. Why did you get into fashion blogging?
Well I have always been interested in fashion, and am a self-proclaimed responsible shopaholic! Ever since I was earning babysitting money I was saving up to shop at the mall. I'm always on a mission to find stylish items at affordable prices.
I followed fashion bloggers but always thought that being a blogger wasn't something a regular person could do, until I found out that a friend of a friend, who was a military spouse like me, had a blog of her own. I thought, "If she's a normal person like me and has a blog, then I can have one, too!"
At the time, I was also going through some life transitions. I was recently out of the military and had more time on my hands, and I wanted to have creative control of something. So, I went ahead and started a fashion blog!
2.  What do you do outside of blogging?
Outside of blogging I have a full-time job working as a civilian at a military base in Germany. Initially my job required business casual attire, but I have recently transitioned to a new job where jeans and boots are the norm. It's kind of refreshing to be so casual at work nowadays!
3.  What season do you love most for fashion?
Definitely fall. You can call me a basic B all you want, but give me all the fall fashion and PSLs! I love fall the most because you get to do some fun layering with scarfs and vests (puffer vests!), but it's not so cold that your outfit is hidden under a huge coat all the time. And I love the colors of fall…burgundy, mustard, olive, pumpkin, they're all great.
4.  How would you describe your personal style?
For someone who has a fashion blog I feel like I should have this figured out! I guess I would say realistic, affordable, and trendy. I would probably say I lean more towards feminine and simple.
As much as it's fun to skim the spreads in Vogue or see high end bloggers feature luxurious items, I want to show readers that you can dress well on a budget and create a closet that takes you from work to weekend. So regardless of what your style is, I hope someone would see that from my blog.
5.  Tell me about Rascal, how long have you had him?
Rascal is my little prince! He's a 5-year-old Australian Shepherd who I'm kind of obsessed with. A little bit of a #crazydogmom over here!
Even on days when I mess up at work, or feel fat in my clothes, or just am generally down, he's there to wiggle his butt (he has no tail) and give me kisses. He's a really great dog and I love traveling with him.
6.  What are some of your favorite hobbies outside of fashion? 
I love running, reading, and traveling.
I ran cross country in middle and high school and then obviously in the military, and I don't really know how to explain it other than to say it's just what I do! It's a great way to de-stress and even a bad run is better than no run at all.
I've always preferred non-fiction books, and have been recently reading about people who have escaped from North Korea. Escape from Camp 14 is a fascinating story. I'm also a fan of true crime, like Devil in the White City.
It's always been my dream to live abroad and travel, so being in Germany is literally a dream come true for me. I love the local experiences we get to have living here, and we've seen so many amazing places.
Go Follow Her!
Isn't she amazing?!  You y'all should follow her and check out her blog here: http://www.countdowntofridayblog.com
I love her travel adventures and her work chic style.
Shop the Post