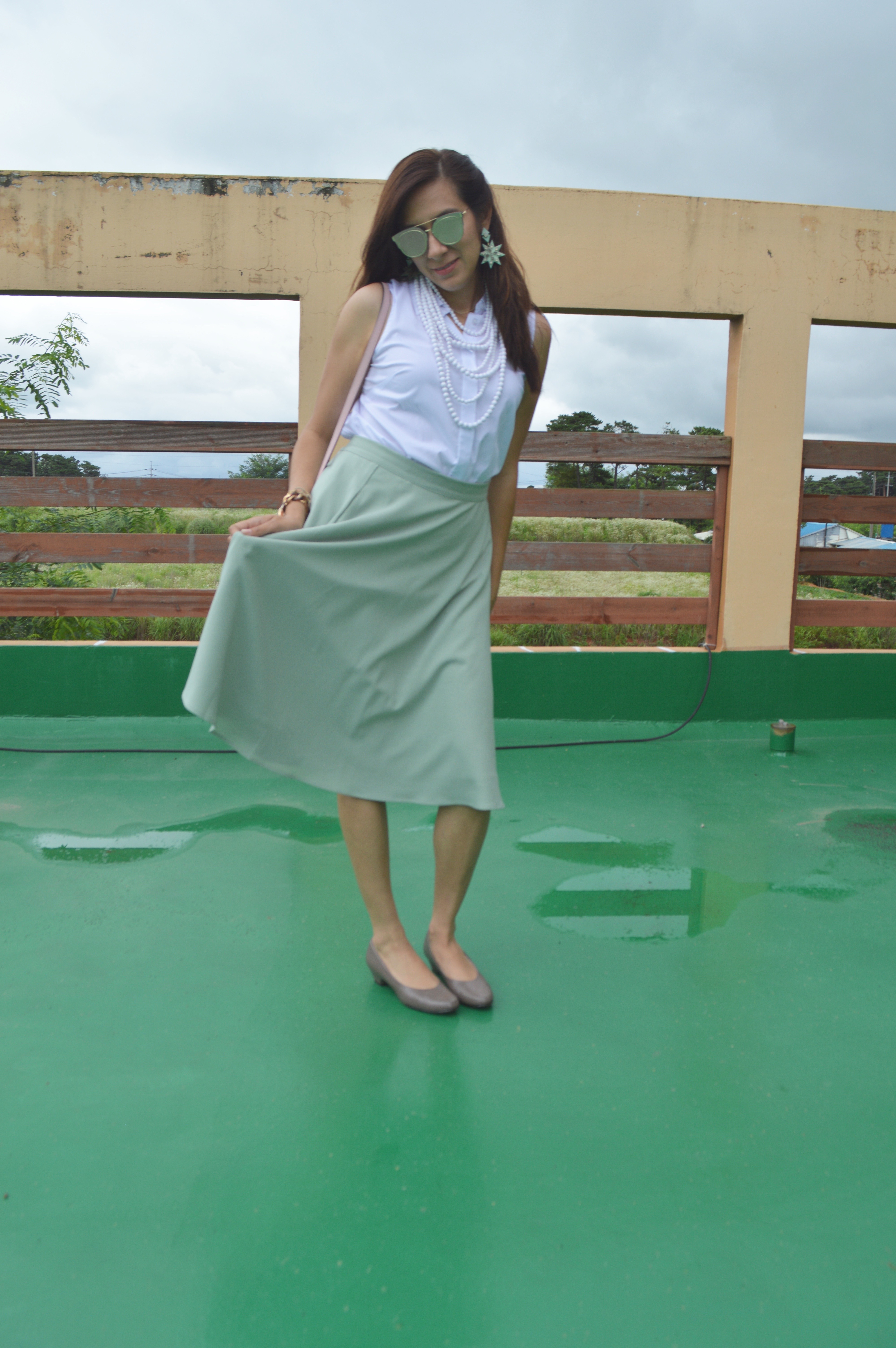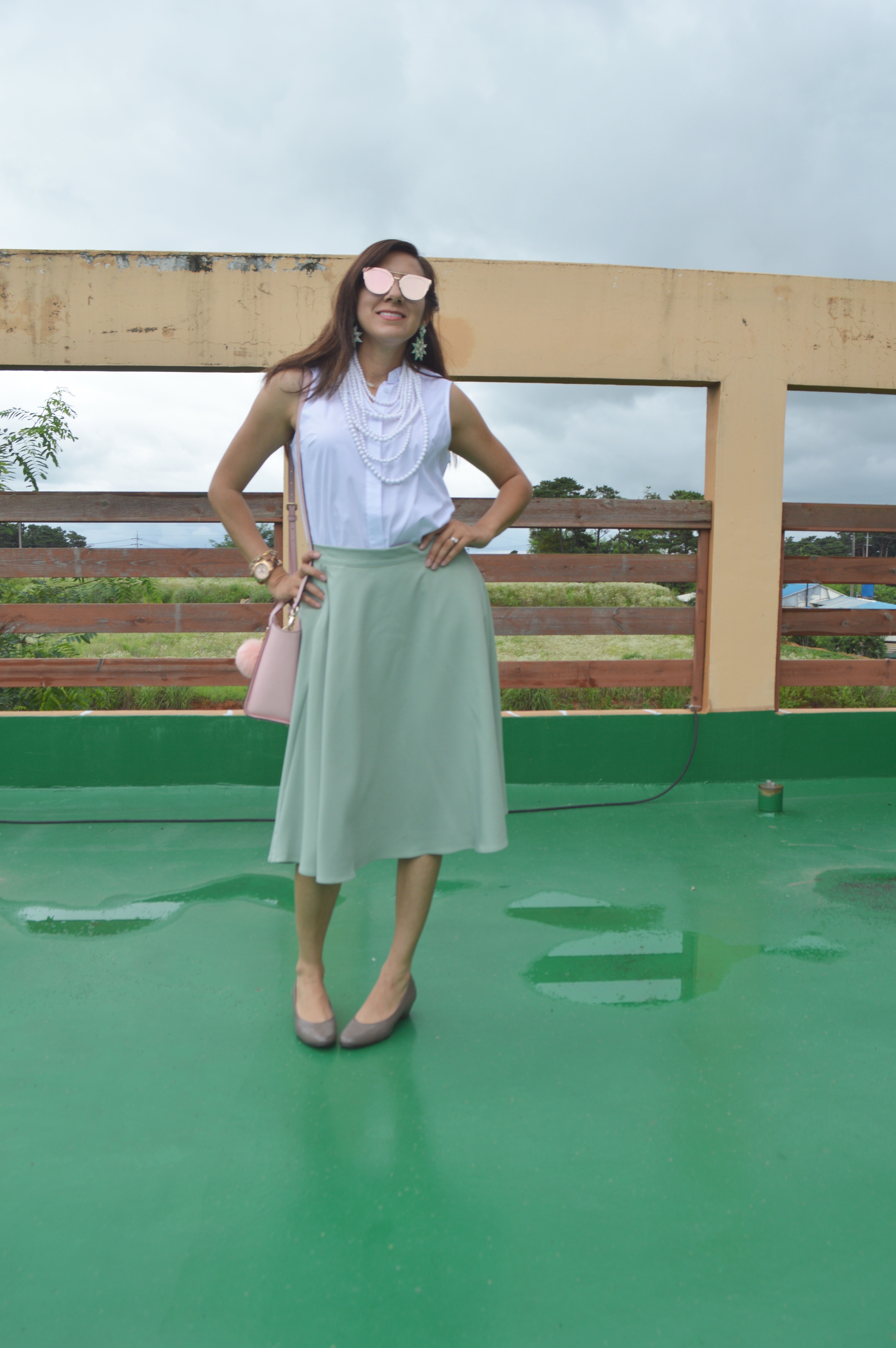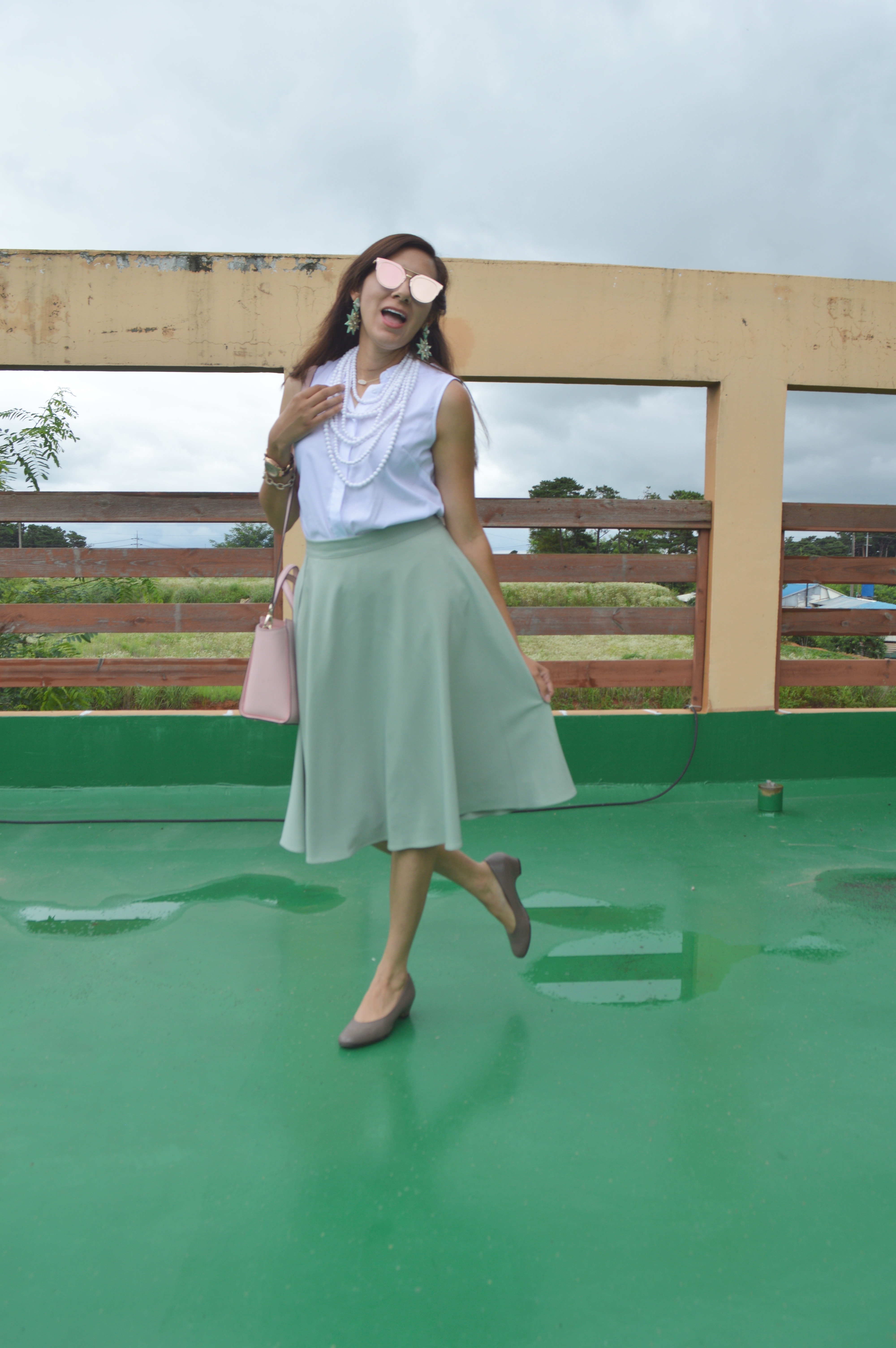 Similar Skirt Here | Shop My Shades Here
Hello Lovelies!
Today I am going to share with you guys the 15 Things That Inspires Me and this beautiful round skirt!
Summer is still thriving even with fall fashion making its way into the trends. This skirt would be perfect for summer or fall. I love the mint color! Unfortunately, ModCloth does not carry this adorable mint skirt anymore but I found some similar skirts to share with you in fun fall colors right here!   You can also recreate this look with the skirts I found at Nordstrom; links are provided in the pictures below.  Keep in mind that Nordstrom is currently having their Anniversary Sale and you can get some great deals!
I decided to pair my outfit with these trendy pink sunnies by ilymix.com. You can shop their sunnies here!  These sunnies go perfect with this outfit! The best part is you can save 20% off their sunnies or any jewelry purchased using code: cutebrandik20
My little cousin recent started a blog of her own and I wanted to support her blog challenge called: "101 Things That Make My Soul Happy," check out her blog and watch her beauty-guru YouTube videos! You can learn some great beauty tips at Amber Deno Inspired. I did not come up with 101 things but here is my accepted challenge with a little twist and I am calling it:
15 Things That Inspire Me
Other Fashion Bloggers:  I see their success and what they create, it makes me want to get creative too.
My Family: I continue to work hard so that I can set good examples for my son. My husband is dedicated to his job, which makes me try better in everything I do. My Mother is a hard worker who never settles for less even during our toughest times.
School: I embrace the opportunity for a higher education and I hold on to that fact that I will finish real soon!
Accomplishing Goals: It's addicting! Once I accomplish one goal, I set more and work towards them.
Taking Photos: It is a hobby that I started back in 2006 but I really got more into it when my boyfriend- now husband bought me my Nikon DSLR Camera. Now I live to create!
Fashion: I have always been a little fashionista but it wasn't until I graduated high school that I was able to afford my own clothes. I am a firm believer that you should always express yourself through what you wear.
Travel: Oddly enough when I was in my early 20's I was scared to travel but then I moved to Germany for 4 years and now my desire is to see the world. I love experiencing different cultures and learning different languages.
Painting and Wine: It is a nice little past time activity that I don't get to do anymore but I would like to do again.
Shopping: That is my time to look around, drink a Starbucks and draw inspiration from everything I see. I don't get a whole lot of shopping opportunities in Korea so I miss the states in that aspect.
Working out: I am not a "Gym Nut" but I do like to get some cardio in at least 3 times a week and I will relax in the sauna at least once a week. It makes me feel rejuvenated! I wish I could participate in Yoga or some Aerobics a bit more but my schedule always conflicts.
Music: I have always been a music driven person. Music is my escape from reality. I love songs I can relate too. I used to sing and play instruments but I never stuck to them.
Audrey Hepburn: She is my fashion soul mate! I truly believe that. Before I knew of her, numerous people pointed it out to me that I dressed like her. Now that I know of her, she is my fashion idol. I have always been into the older style trends.
Accessories: I am always on the lookout for accessories that are unique. Accessories make the outfit more interesting.
Retro designs: I love retro designs in interior décor and fashion. It makes me want to recreate every time I see them.
Improving myself: I value in improving myself in various ways.  I thrive to keep making myself better than I was yesterday.
Feel free to leave comments and let me know what inspires you!
Stay Focused on the Things you want
-Brandi Kimberly