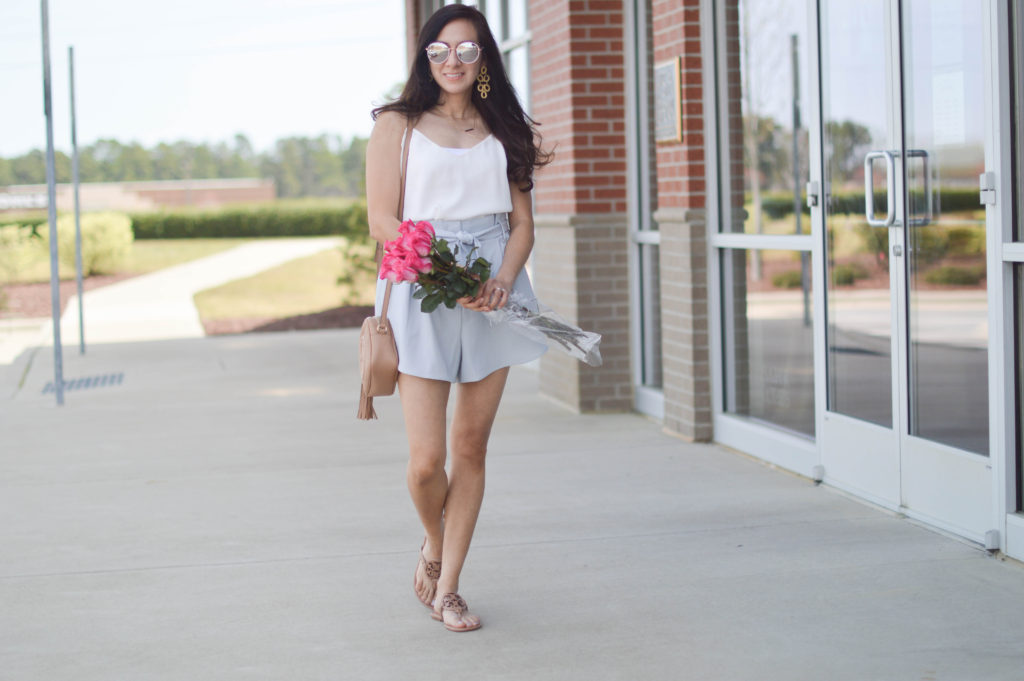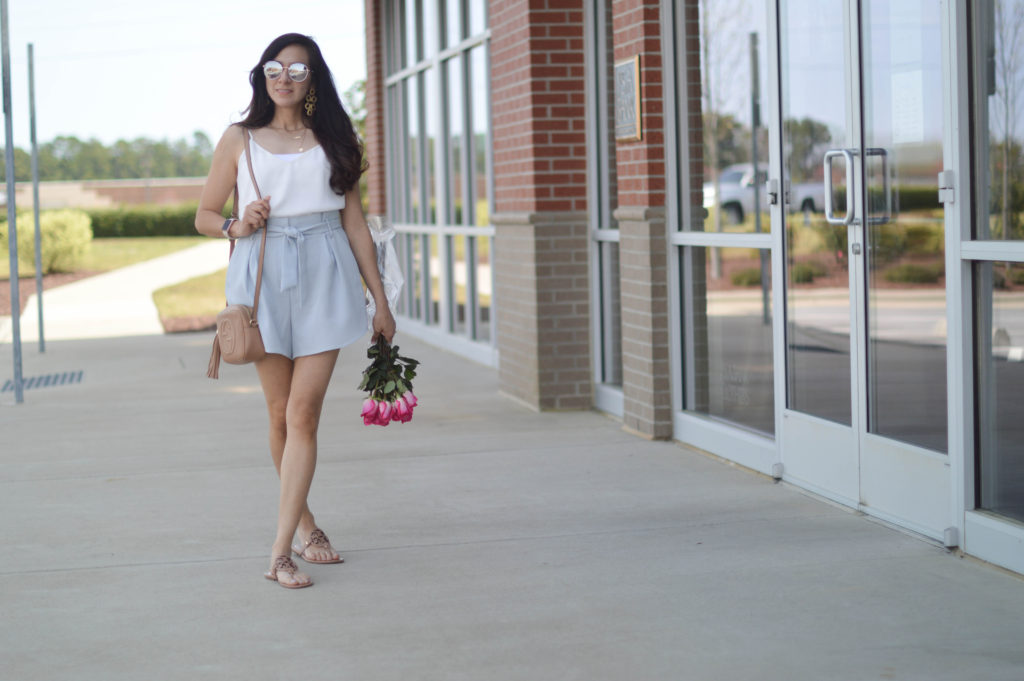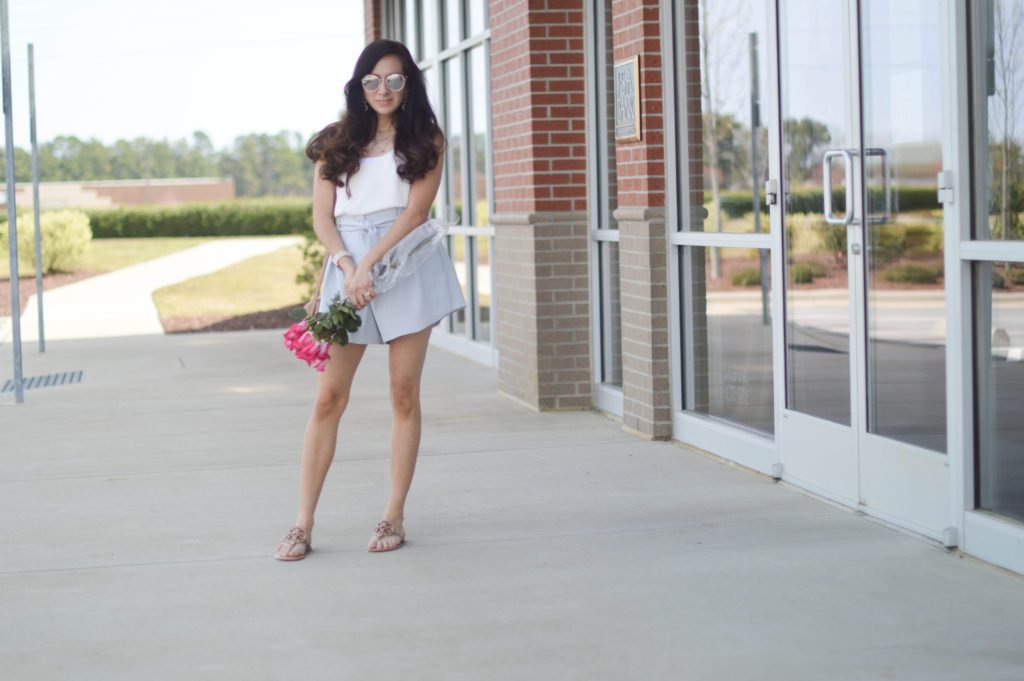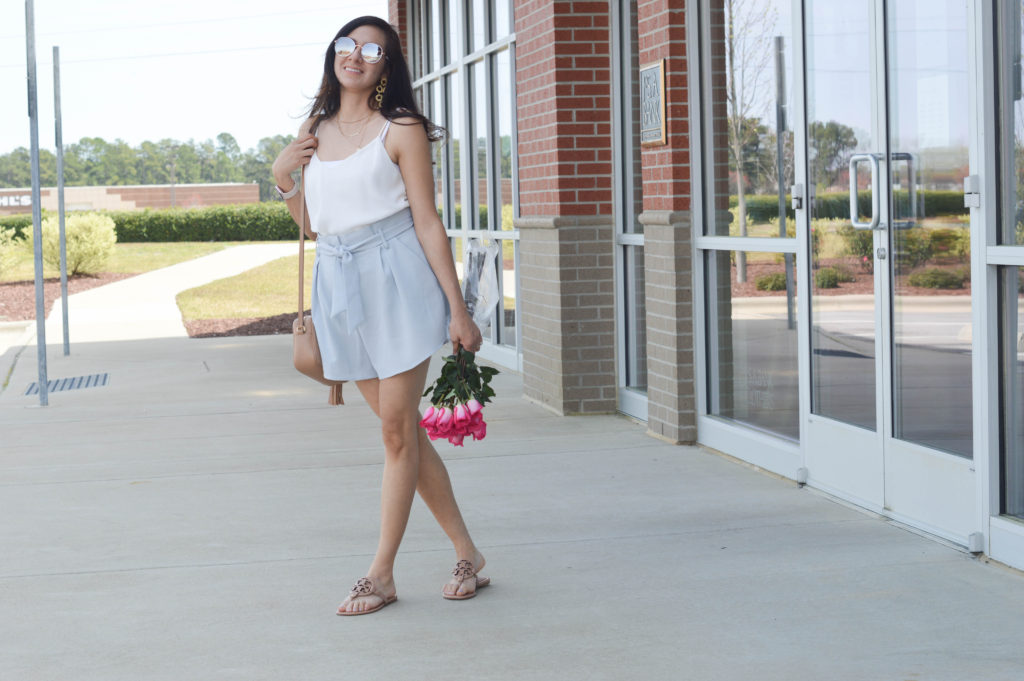 Gucci Bag // Miller Flip Flops // Leith Shorts in Blue Pearl  // JCrew Cami // Shades   //  Earrings
First of all, these Miller Sandals by Tory Burch have been a huge trend for a few years now and they are still going strong.  These cute flowy High Waisted Shorts are a hot commodity for spring/summer.  I've seen High Waisted Shorts pop up in so many retailer inventories this season and I personally Love the trend! Plus, you can wear them for all types of occasions.
Leith Paperbag Shorts
I decided to go for a classy weekend look.  I paired these shorts with a camisole top by JCrew.  I love this top however, I am not a fan of how see-through it is.  I am wearing a sold white cami underneath but a pretty white bralette would go perfect.  These short are a tad-bit see-through as well so, I am wearing nude boy short panties underneath.  I adore the blue pear color, it is so chic!  The fabric compliments the hot weather and these shorts would go great with swim wear.
 Miller Flip Flops
Now Lets take another look at these Miller sandals by Tory Burch!!  They are a little pricy but totally worth every cent!  They currently come in 15 different colors.  I choose "Makeup" because it is a classic nude color that will go with anything I wear.  I was a little worried about paying so much for these sandals because I wasn't sure if they would look right on my feet.  I have a skinny foot- size 8 and long toes.  Certain sandals don't look good on my feet, lol!  But these sandal look fantastic and if I could afford it, I would buy them in another color.  Maybe next year!  These are timeless sandals that has been a trend for a few years now and I can see this trend going strong for another few more years!!
Adding an expensive Bag to the mix
You can style this outfit with a cute straw or woven tote.  These is something so classic about adding a designer bag to your outfit!  If you are interested on how I got this $1000 Gucci bag for $700 check out my last post right here!
If you have any questions please don't hesitate to reach out!
XoXo